Oz (Ozi) Mendelovitch was born Nissan 2nd (23.3) 1993. A soldier, member of the engineering squadron of Golani's scouting battalion, he was killed during the fierce battle waged at Sagaiye in the Gaza strip on July 20th, 2014.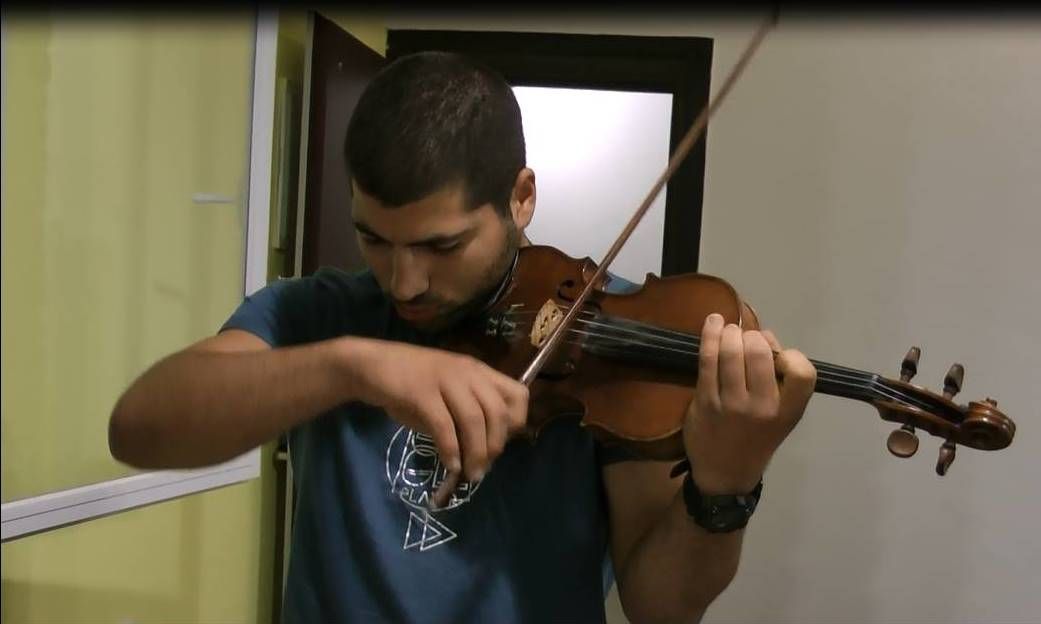 Portrayal - Oz was a combat soldier (machine gunner), a gifted athlete, excellent soccer player, professional sprinter, fitness instructor as well as a talented violinist.
Military activity-
Before enlisting Oz strived to serve in the Special Forces, a place where he will be able to contribute as much as possible for a meaningful service. He easily passed through the pre-enlistment combat formation of Golani's brigade and made it to the scouting battalion's engineering squadron, where he served as the squadron's machine gunner (MAG machine gun). Throughout his service his friends and team members describe him as exemplary soldier and a true friend that strictly maintains the team high spirits, solidifies and strengthens in the most harshest and delicate scenarios.
The rough year and 3 months of training he passed in flying colors, collecting several excellence awards, representing his squadron in brigade's tests and competitions, while participating in several special operations.
Oz lost his life spear-heading operation Protective Edge in Gaza while covering and protecting his team mates with his MAG.
Progressive thinking:
Oz was a clever and shrewd individual, motivation driven and ambitious, he has won twice at an early age (11+12) First Prize in Israel's thinking games' competition. Oz has also "starred" in school achieving 41 units for his matriculation certificate.
Soccer and sports:
Oz was also a gifted and professional soccer player, playing for Bnei Sachnin and Hapoel Misgav. As a sprinter as well, his room is adorned with many trophies and medals. He has dedicated every spare minute to training - sprinting, gym practice and fitness exercises at home.
Musical skills:
Started playing the piano at age 8, he has chosen to move to violin at age 10, and as early as age 13 has already participated in concerts at Keshet Eylon. At his Bar Mitzvah he played "A Yiddishe Mame" known to be complicated. Oz has played with the Israel Netanya Kibbutz Orchestra, and was selected for its performance tour in Germany and Holland.
Oz's violin did not fall silent until his last day. At vacations from the army, as well as on his last one, he has chosen on his own to confront various pieces of his pickings… his music playing was always ear pleasing.
In light of his thrilling life story, and after his death, Eyal Shiloach contacted his family, forming with them a special. Eyal opened the Klezmer Festival with Oz's violin, hence helping the family to fulfil what Oz did not manage to complete in his lifetime – maintaining the violin and restoring its parts. Consequently Oz's ancient violin story was aired:
The violin story – Oz's violin found its way to Israel by surviving holocaust Jews.
Whoever played this violin was forced to do so in "Reception events" for new prisoners in concentration camps, as accompanying music on their way to forced labor or to the gas chambers in the Maidanek death camp.
This violin is one of the violins that found their way to Amnon Weinstein, the violin builder from Tel Aviv, and turned out to be his life's work. He has restored and improved them, so the humane tales behind them were documented. This violin was granted new life, and was paid tribute after 70 years of silence by Oz's playing.
Eyal has chosen not to let Oz's violin fall silent again, so has casted into this year's
Master Classes a special project – composing a musical piece in lines with Oz's exemplary model by composer and pianist Dr. Yuri Brenner. Performance of this piece will be played by leading international artists, side by side with soldiers and excelling music students in a special concert during the International Master Classes 2017. Under this framework the family will also grant scholarships in Oz's memory to excelling soldiers and music students.
Eyal Shiloach has also opted to carry Oz's violin and play it in special events to remember and commemorate Oz in Israel and around the world.
In summary, Oz is an exemplary figure in human values and merits, being optimistic and filled with joy of life, abound with giving and helping, a talented musician and gifted athlete. People just loved to be in his company and in their eulogy his friends described him as "best friend in the world", whereas his commanders described him as quintessential soldier.