Born in Israel in 1963, Eyal Shiloach studied the violin with Ilona Feher, Pyotr Bondarenko and Haim Taub. During his studies, he appeared as soloist with the Israel Philharmonic Orchestra and the Israel Chamber Orchesta. At age 14, he won first prize at the IBA Young Artists Competition. He was the recipient of the America-Israel Cultural Foundation scholarships and participated in the Excelling Young Musicians Unit in Jerusalem. After his service at the IDF as Excelling Musician, he was encouraged and tutored by Isaac Stern and Michael Terry in the USA.

Upon returning to Israel, he served as First Violin of the Israeli Symphony Rishon LeZion Orchestra and the Tel Aviv Symphony Orchestra, appearing with them as soloist as well. He performed as First Violinist of the London Symphony Orchestra on its Japan concert tour, participated in Marlboro Festival, in recitals and as soloist with orchestras in the USA, Canada, London, Budapest, Turkey and Belgium. In Israel, he appeared with Waterloo Soloists Ensemble, performing and recording a work for violin, oud and string orchestra by the Israeli composer Aviya Kopelman, who dedicated him the piece. Eyal Shiloach is a member of the Mahler International Piano Quartet and Artis Trio with Belgian pianist Johann Smidt and cellist David Cohen, touring all over Europe.

He appears in chamber music series and festivals and guides master classes in Israel and abroad. He has won several times a prize for performing Israeli pieces and performed his own works on Mezzo Television Channel. Together with composer Avner Dorman, Eyal Shiloach founded the INNOVATION Rock Band, appearing as soloist. He has served as musical producer of the Voice of Music in Upper Galilee Festival. Currently he serves as Artistic Director at the Jewish and Ethnic Music College in Tzfat and as Consultant, Guide and Conductor at the Clore Centrefor Music and Dance in Kfar Blum.

In 2010, he has been appointed by the Education Ministry as Manager of the Tzfat Musical City project and is serving four years as Music Director of the Klezmer Festival in that city. He founded the Tzfat International Klezmer Center and serves as Artistic Manager of its master classes. In 2013, he founded the association Arco for promotion, perseverance and excellency in music, awarding scholarships to young musicians and international artistic projects management.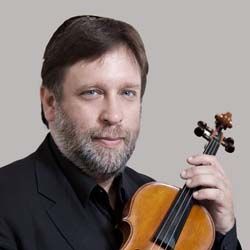 Ravel Tzigane rapsodie de concert Eyal shiloach Violin